An ideal family camping tent must be spacious, with several large rooms, excellent ventilation, good storage options, instant setup, good quality fabric and with an adequate waterproof rating. All these features are perfectly available in the most popular camping tent from Ozark Trail- the Ozark Trail 12 person instant cabin 3-room family camping tent that comes with a large screen room.
This camping tent is for those who are mainly focused on enjoying the great moments with their family members in the aesthetic wilderness of nature.
It is one of the best instant setup cabin style tents for summer family camping. Based on our experience and research, we have completely reviewed every important factor about this tent. We are pretty much sure that by the end of this article you will get a complete idea of whether the Ozark Trail 12-person 3-room family tent is a good option or you need to look for other tents. Having doubts is instant cabins good or not? Check it out here.
This guide is based on various factors that are briefly discussed below. This article contains a healthy discussion on factors of this tent-like setup time, structure, person accommodation, ventilation, weather protection, fabric material, the most highlighted feature of the tent – the screen room and warranty followed by pros and cons. Therefore, make sure to give a complete reading to the below article to get every important information.
Ozark Trail 12 Person 3 Room Instant Cabin Tent Screen Room Review
This article features the complete in-depth review of the Ozark Trail 12-person three-room instant cabin family tent with screen room. In the end, the pros and cons are also available to allow you to make a better decision. Moreover, we have also given a quick setup guide to fix this tent.
1. Tent Setup
The Ozark Trail 12-person tent is a good option for family camping or camping with group members of up to 12. For a family camping tent, instant setup is a must feature and the Ozark Trail 12 person 3-room tent comes with easy setup.
In the packed conditions, it has dimensions as 50 in x 12 in x 12 in i.e. 127 cm x 30 cm x 30 cm.
The tent package weighs around 45 lb or we can say 20.4 Kg. Hence, it will require you to analyze the space in your car because of its heavyweight you cannot carry it with you alone for long distances. Therefore, you will need to plan a camping place where the car can be accessed. For ease of transportation, you can keep the tent on the roof of the car.
As we already revealed that it is an instant setup tent. Actually, its frame is pre-attached to the tent and it has telescopic poles. You just need to unfold the tent and extend its telescopic poles until you hear a ticking sound and the button appears on the pole which means that the telescopic pole is fully extended.
The tent setup procedure is so easy and quickly such that two-person can easily set up the tent in just two minutes. Therefore, if you are camping for the first time with your family in summer vacations then you can reliably select the Ozark Trail 12 person instant cabin tent.
2. Structure
On the completion of the tent setup, you get a tall cabin style tent. On the very first look of the tent is very cool. From outside, it looks like a rectangular structure but it has a Y-shaped floor design.
You get a freestanding structure of the tent. Even after adding the fly, it sustains the freestanding structure until you stake the fly down to the ground. Thus, you can move the tent-like any box and rotate its direction as well accordingly. The tent has huge vertical steep walls.
The Ozark Trail 12P instant cabin 3 room tent has three huge doors. Each of the three rooms has their own door. All the doors are closeable. All the doors come with panels. The screen room door comes with an inverted T-shaped zipper.
When you look around, you find ten huge windows all around the tent and the room dividers are also present. These room dividers give the tent a 3-room structure. When you roll the room dividers to the sides, you get a very huge space inside the tent.
Apart from that, there are 3 adjustable air intake vents that are also available in all the 3 rooms of the tent and they are located close to the tent floor. You can easily add the rainfly on the roof when required. The peak height of the tent is 76 inches which is around 193 cm. Therefore, campers can comfortably stand inside of this cabin style family instant setup tent.
3. Person Accommodation
From the title, it is very clear that this is a family cabin style tent for up to 12 person and the declared person capacity of the tent from the manufacturer side is also twelve people. Let's check out about reality. Once, you completely set up the tent, it attains the dimensions as 20 ft x 18 ft i.e. around 240 in x 216 in.
The Ozark Trail 12 person instant cabin tent offers 168 sq. ft i.e. 15.6 sq. m. tent floor area. Therefore, you get 14 sq. ft which is 1.3 sq. m. of floor area per person. There are 3 rooms available and each room comes with a tent floor area at 56 sq. ft i.e. around 5.2 sq. m.
Hence, you can understand how much area every person can expect when there is a total of twelve people camping together. Well! It is hard enough but can be a good choice for a quick night's stay.
Keep in mind that if you are camping with your family then you will also be carrying some camping bags and equipment too. Then there is no external storage option here. Hence, it will be very comfortable if you plan to camp with less number of campers then declared. This tent offers a 3-room structure.
We can pretty much say that two rooms can be used as sleeping rooms and the screen room can be used as a living area when the room dividers are being used. Hence, this tent is best for parents with up to four kids or for two couples camping together.
Another reason is that you can close all the openings like windows and doors as they are with zippers panels. Even the room dividers can be used for privacy when two families, two couples or mixed gender group is camping together. It offers 56 sq. ft floor area per room. Therefore, three queen-sized beds can be easily fit in all three rooms. The screen room can be easily used to keep the camping gears and for sitting purposes.
4. Ventilation
As we already said that it is a cabin-style tent then you will not be going face any issues with proper ventilation. Even for a family tent ventilation is a must and this completely applies to the Ozark Trail 12P instant cabin style family three rooms tent. You can also check out about these 2 best instant cabin tents Core 12 Person Instant Cabin Tent and Coleman 6 Person Instant Cabin Tent. There are ten huge windows available all around inside of the tent. The windows are quite huge enough to enjoy the scenery while sitting inside the tent. They are with mesh and zipper panels.
The Ozark Trail 12-person instant cabin tent has a whole mesh ceiling. Therefore, you can understand the flow of air in and out. It allows for excellent ventilation throughout the tent. It also has three air intake vents in all the three rooms of the tent and they are also positioned close to the floor. These vents are very helpful to insert cool air from outside and flow out the hot air through the mesh ceiling. The guylines can also be used to stake them down to the ground.
5. Fabric Material
Both tent and the fly are durable 68D-coated polyester fabric with a 600 mm waterproofness rating. This waterproof rating is moderate but still not enough. The umbrella has a waterproof rating of 400 mm – 500 mm. Hence, you get an idea of its waterproofness. All the openings like windows and doors are with waterproof polyester panels. Therefore, this tent will be able to resist the water. It will keep you dry in rainy conditions. But we highly recommend not to use it in a heavy rain climate.
The tent floor is a factory welded 6″ tub floor that prevents any water leakage or outer elements from getting inside. Moreover, the fully taped factory-sealed seams provide dry-zone camping with leak protection. We can say that this is a three-season tent. It gives you the best results in a mild weather climate. We highly recommend to not use it in heavy rain or windy conditions.
6. Weather Resistance
The Ozark Trail 12-person cabin tent is a 3-season tent and therefore, the whole ceiling is mesh. This tent arrives as an unbeatable option for family camping in hot summers as you get proper ventilation throughout the whole tent which will don't get you to warm. This tent comes with steel poles and the cabin style structure offers good stability to the tent.
As we already discussed that the tent and the fly are polyester 68D with a 600 mm waterproofness rating. Hence, it is quite enough for light rain or wind conditions. However, if you are planning for camping in harsh weather situations then you can look for other tent options like four-season tents. Even its tall vertical walls will be an obstacle for side winds. For better stability, you can use the 17 steel stakes to stake down the tent properly.
7. Storage Options
For the storage options, there are small six-gear storage pockets that are also available to keep your small belongings like keys, flashlights, etc. safe from getting lost at night. The pockets available are very small. There is an electricity port that is also available to take advantage of when electricity can be accessible at the camping place.
8. The Screen Room
On the side of the tent, there is a large screen room. It is large enough to easily fit a queen-sized bed. Don't worry at all, you get complete protection from the mosquitoes, insects, and other outer elements. The Ozark Trail 12-person 3-room cabin tent has a screen room that comes double-layer structure.
The screen room has mesh and panels for protection from bugs. There is a huge double door at the front with an inverted T-shaped zipper. On the floor perspective, the screen room is a completely floored area like its two other regular rooms.
9. Warranty Period
The company has given a limited six months warranty on the Ozark Trail 12 person instant cabin tent. This tent is available at a great price on Amazon. We have given the Amazon link below. You can take a look.
How to Setup Ozark Trail 12 Person Instant Cabin Tent?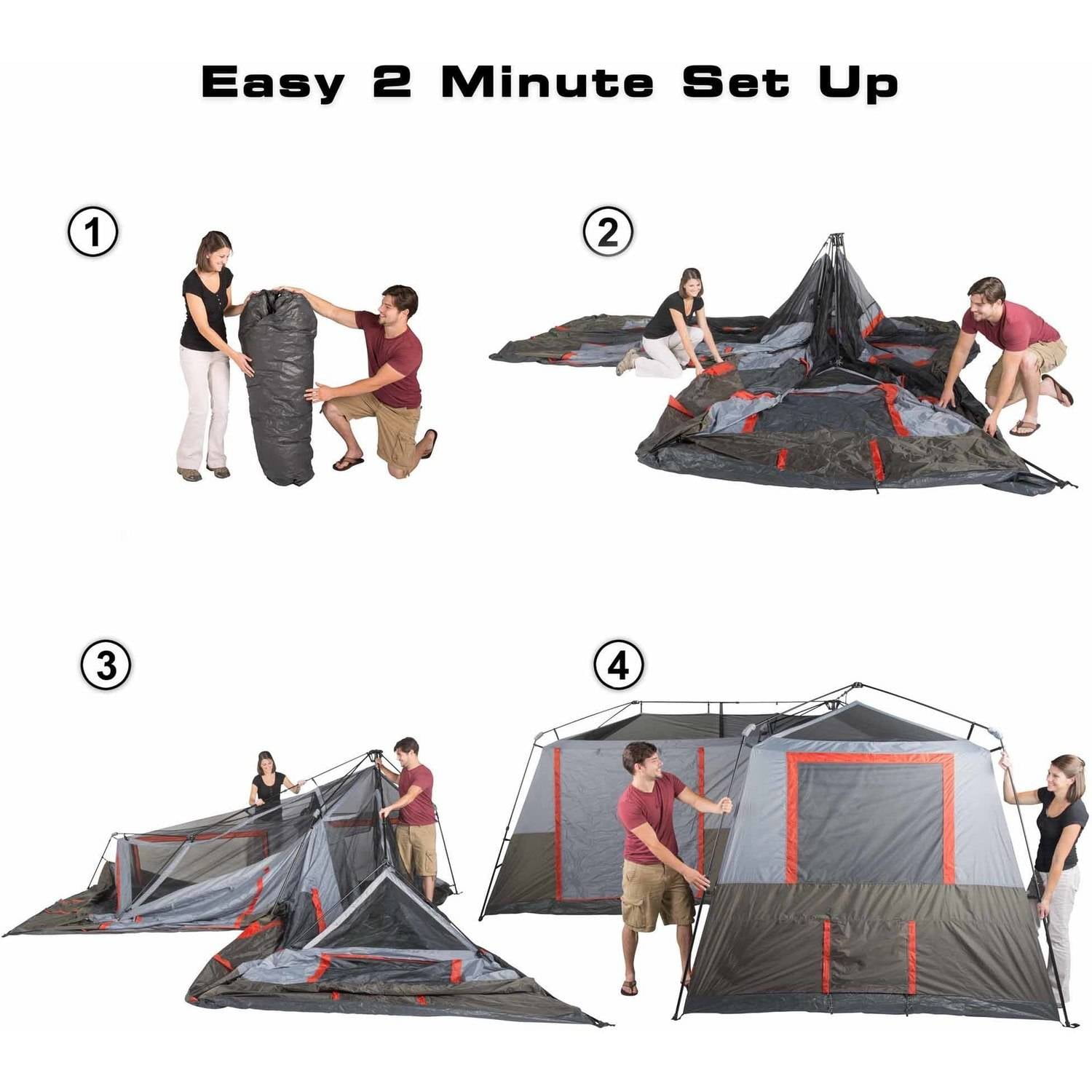 Start with unfolding and spreading the tent then set up the living quarters.
Now, lift up the arm joint of the upper eave pole.
Perform the second step with the other three upper eave poles.
Now extend the telescopic poles from the front two corners.
Perform the fourth step with 2 black telescopic poles.
Before the setup of sleeping rooms, make sure to stake the tent.
Here, slide stake through the webbing loop.
Now assemble the shock-corded poles, 4 steel support poles, the fiberglass poles.
Right above the window of sleeping rooms, insert the shock-corded pole into sleeve.
Now, grab the end of the metal support pole and insert it into the large hole of the plastic hub.
Next, grab the bottom of the metal support pole and insert it into the metal pin.
Repeat these steps as well with other poles.
Now, place the rainfly over the tent.
Then secure it with steel support poles.
Here, click the hooks onto the metal rings then secure the guylines.
At last, unroll then slide the stake through each loop and you are done.
Conclusion
The Ozark Trail 12-person 3-room cabin tent is among one of the best family camping tents. This tent is completely suitable for summer camping because of its ten mesh windows, 3 ground vents, the screen room, and the mesh ceiling. This is a 3-season tent and its pricing is also great. Therefore, it stands as an unbeatable family camping tent. Share your valuable vision with us in the comments section below. Stay tuned for more tent reviews.